By Traci A. Malik, CPA CFE MAcc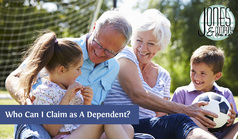 This question has been around for many years. Starting in 1987, the IRS required Social Security numbers of all dependents over the age of 5 claimed on returns. That year 7 million American children disappeared from the nation's tax returns according to Snopes.com. Nowadays with matching technology and Social Security numbers getting issued upon birth, it's nearly impossible to get away with claiming a fictional dependent. Who can you claim then?
Dependent is a qualifying child
Five tests must be met for a child to be your qualifying child. The five tests are:
Relationship (child, siblings, grandchildren, descendants of them),
Age (under 19 at end of year or under 24 if full time student, or permanently and totally disabled),
Residency (lived with you more than half of the year unless student),
Support (provided more than half of the support for the year), and
Joint return (child can't file a joint return).
or a qualifying relative.
Four tests must be met for a person to be your qualifying relative. The four tests are:
Not a qualifying child test (see above),
Member of household or relationship test (live with you all year or be related to you in one of the ways listed below),
Gross income test (person's gross income must be less than $4,000), and
Support test (must provide more than half person's total support during calendar year).
What is the member of household or relationship test?
To meet this test, a person must either:
Live with you all year as a member of your household, or
Be related to you in one of the ways listed under Relatives who don't have to live with you.
Your child, stepchild, foster child, or a descendant of any of them (for example, your grandchild). (A legally adopted child is considered your child.)
Your brother, sister, half brother, half sister, stepbrother, or stepsister.
Your father, mother, grandparent, or other direct ancestor, but not foster parent.
Your stepfather or stepmother.
A son or daughter of your brother or sister.
A son or daughter of your half brother or half sister.
A brother or sister of your father or mother.
Your son-in-law, daughter-in-law, father-in-law, mother-in-law, brother-in- law, or sister-in-law.
If you have other questions or for more information, contact our office or IRS Publication 501.